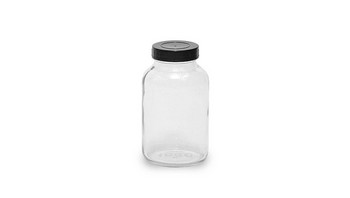 Sample bottle with screw lid, thread of sample bottle GL55, sample bottle can be used with dividing heads, division ratio 1:8 and 1:10.
Furthermore a sample vessel 32 ml with lid, article-number 83.3190.16, is available, which can be inserted in the sample bottles 250 ml and 500 ml for dividing smallest sample quantities.
The sample glass is recommended for sample exhaustion with the small volume Cyclone separator for sample discharges smaller than 500 ml, since only a 500 ml sample glass is included in the delivery of the small volume performance Cyclone separator.